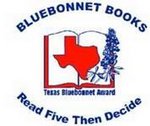 Texas Library Association BlueBonnet Book Award
What is going on in the Library:
Week of September 17-21
Kindergarten:
We are reading
. Talking about the parts of the eye.
First Grade:
is the book that we are sharing this week.
We will work on following multi-step instructions.
Second Graders will share:
We will be discussion the flight patterns and activities of starlings as well as the importance of reading!
Third Grade has started reading
Hamster Magic.
The students are anxious to find out what is going on to make the Hamster magical. They are using clues and foreshadowing to figure everything out.
Fourth Grade is finishing up Thunderbirds and starting the book
If Thunderbirds book was finished we will introduce the Historical person : Benjamin Franklin and discuss his inventions.
Fifth Grade:
If they have finished the book Thunderbirds,
We will begin The Miraculous Journey of Edward Tulane by Kate DiCamillo.